More than half of Lowndes County expenditures go to law enforcement, including sheriff, courts, and the jail.
At Tuesday's budget hearing, Lowndes County Finance Director Stephanie Black presented the proposed 2012 budget to the Commission.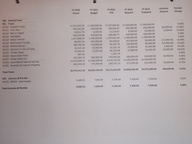 Here are the details of the budget, as photographed by Gretchen from the single copy provided for the public to see by the county clerk.
Here are photographs of her slides.
Here's a playlist of the videos.
A couple more videos of this hearing to come of remarks by Chairman Ashley Paulk and County Manager Joe Pritchard in this budget hearing, plus a related video from the Citizens Wishing to be Heard later that same day.
-jsq