Joe Pritchard told us in May
:
"We were not able to substantiate ... accusations other than that ... castration of pig."
Yet he was notified in March of a euthanasia violation and missing drugs.
This PDF contains an inspection report dated "03-18-11" from the Ga. Dept. of Ag. Animal Protection Section. The images contain excerpts related to a euthanasia violation. -jsq

Recordkeeping - Page 186 on 01-26-11 was
missing on the Euthanasia paperwork. Total of 36cc
unaccounted for. Violation 40-13-13.08 [11] issued.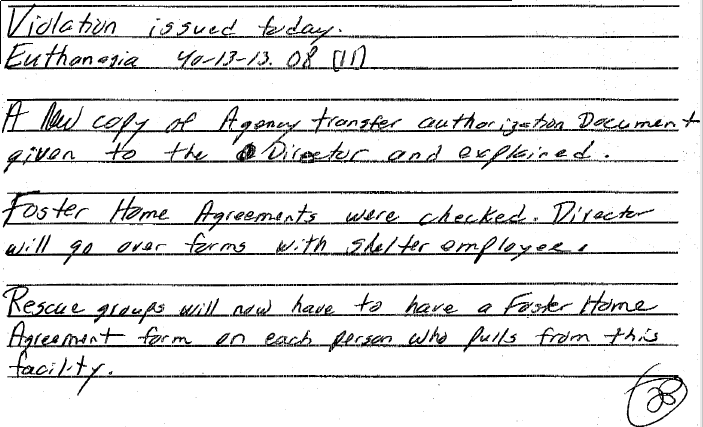 Violation issued today.
Euthanasia 40-13-13.08 [11]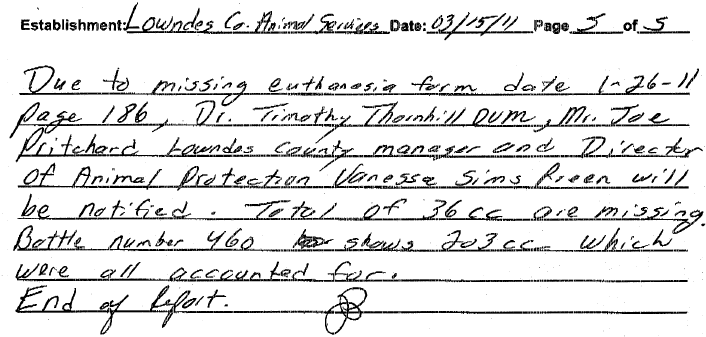 Establishment: Lowndes Co. Animal Services Date: 03/15/11 Page 5 of 5
Due to missing euthanasia form date 1-26-11
page 186, Dr. Timothy Thornhill DUM, Mr. Joe
Pritchard Lowndes County manager and Director
of Animal Protection Vanessa Sims Green will
be notified. Total of 36cc are missing.
Bottle number 460 shows 203cc which
were all accounted for.
End of Report. [initials]
Susan Leavens obtained this report statement 31 May 2011 from Shirley J. King, Open Records Coordinator, Shirley.King@agr.georgia.gov, in response to an open records request she filed 25 May 2011. The text of that request is appended.
-jsq
I would like all information regarding the investigation done by pat Smith from the statements from Ronnie Ganas, Amanda Jordan, and my self Susan Leavens that was turned in June of 2010, I would like all corrispondance from Vennessa Green, Pat smith, Cora Potter and any other person involved in the investigation regarding my statements and the other people I spoke of, in Feb. 2011 there was a meetin between the Lowndes County Manager Joe Prichard, Lowndes county shelter director Linda Patelski, and the Lowndes county attorney with Cora Potter, Pat smith, Vennessa Green and several other people I would Like all notes, and findings from that meeting, any information regarding this ivestigation of animal cruelty an neglect that department of agriculture has and there findings.