The private prison CCA wants to build in Lowndes County (what the Industrial Authority calls Project Excel) is proposed to be on the east side of Valdosta, at the southwest corner of U.S. 84 and Inner Perimeter Road:
That survey plat was included in EXCEL (CCA) Title-Survey Objections (Reno-Cavanaugh) of 19 November 2010. That's one of a group of files returned by VLCIA in response to an open records request by Matt Flumerfelt.
We now have some idea of what the prison would look like, due to this plan: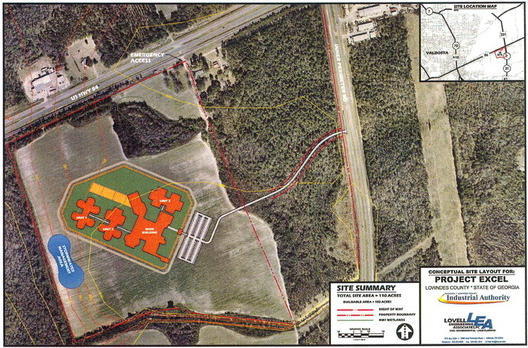 That plan is in EXCEL Econ Incentive Proposal (Valdosta-Lowndes County, GA) dated 23 November 2009. That's right, the Industrial Authority has known all this for more than two years, and hasn't told we the taxpayers even where the prison was proposed to be.
More later on all the supposed economic benefits of the private prison. Meanwhile, here is the case against a private prison in Lowndes County, Georgia.
-jsq