Thursday's Industrial Authority retreat and board meeting are both open meetings, which the public can attend. And at the 2PM board meeting apparently there will be news about Project Excel, CCA's private prison.
VLCIA Executive Director Andrea Schruijer clarified on the telephone just now that Thursday's 9AM-2PM board retreat is an open meeting; the public can attend.
She said the agenda was made by the facilitator, and she had not seen it. The purpose of the retreat is for board members to talk about their experiences and roles as board members. The retreat is not for discussing specific projects.
Regarding the 2PM board meeting Thursday, she said she thought the agenda was on VLCIA's web pages. When we looked and found it wasn't there, she said apparently there was some confusion due to the rescheduling of the meeting, and the agenda would be there soon.
I asked her whether the Project Excel Project Excel, the CCA private prison, she said the Preliminary Specifications ( see section 1.6.1) had been received. She said they had been received, and they were simply a site diagram, a copy of which was hanging on VLCIA's office wall. From discussion with her, it appears to be this site plan: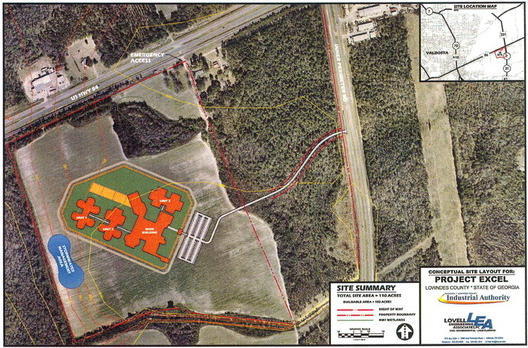 I asked her if VLCIA had sent CCA terms for a third extension option. She said no, they had not. And according to Andrea Schruijer, same as for the NTP, the contract says that it's up to the company (CCA) to come to VLCIA with a proposal for such terms.
I asked whether that meant it was up to CCA to negotiate with the landowner. She said yes, that was the case.
That seems to require reading the passive voice of Section 1.4.2.3. Third Extension Term as the Authority will obtain from CCA (I am not a lawyer).
I asked her did that mean she didn't know whether CCA wants to proceed with this project. She said that was correct; VLCIA doesn't know.
Executive Director Andrea Schruijer asked if I had any other questions. I said only if she was willing to answer whether the board wanted to proceed with Project Excel. She said come to the board meeting Thursday and that would be answered.
So it sounds like there may be some news about CCA's private prison, aka Project Excel, at the Thursday 2PM board meeting at 101 North Ashley Street.
-jsq