Before selling it off to a private landowner who who two years later got a contract with private prison company CCA
to resell it for almost 100% profit
, the Industrial Authority acquired a road easement through county-owned wetlands from Lowndes County:

Further, Grantor hereby conveys a Non-Exclusive Ingress and Egress Easement in that certain 0.685 acre tract or parcel of land situate, lying and being in Land Lot 153 of th 11th Land District of Lowndes County, Georgia. Said 0.685 acre tract being designated as "0.685 acres — Ingress/Egress Easement reserved for future right-of-way extension" as depicted on that certain map or survey "Valdosta-Lowndes County Industrial Authority" dated September 8, 2004 and recorded September 9, 2004 in Plat Cabinet A, Page 2659, Lowndes County records, to which map and survey is hereby referred in further aid of description.
An easement that a private landowner might have more difficulty getting from the county. Isn't that convenient?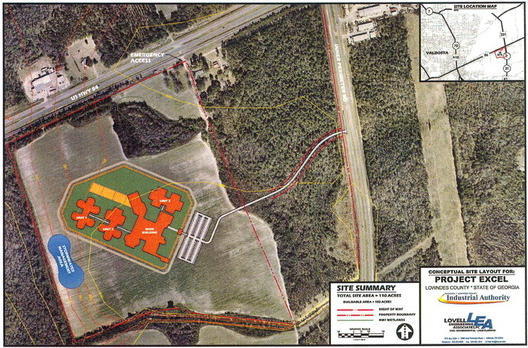 This is the wetland that has not yet been approved for that purpose by the Army Corps of Engineers, according to Ashley Paulk.
By the way, that wetland easement in 2004 was before Brad Lofton was hired in 2006 to be executive director of VLCIA, so the very peculiar history of this bit of land can't all be blamed on him. The appointed Industrial Authority board and the elected Lowndes County Commission and Valdosta City Council are all also involved.
-jsq