At a recent Lowndes County Commission meeting, I said:
I was interested to learn two weeks ago that my neighbor Timothy Nessmith was interested in getting DSL on Hambrick Road.
He said you can get it as close to him as Quarterman Road. I can attest to that because I have 3 megabit per second DSL, due to being just close enough to Bellsouth's DSL box on Cat Creek Road, but most of Quarterman Road can't get DSL due to distance. There are some other land-line possibilties, involving cables in the ground or wires on poles.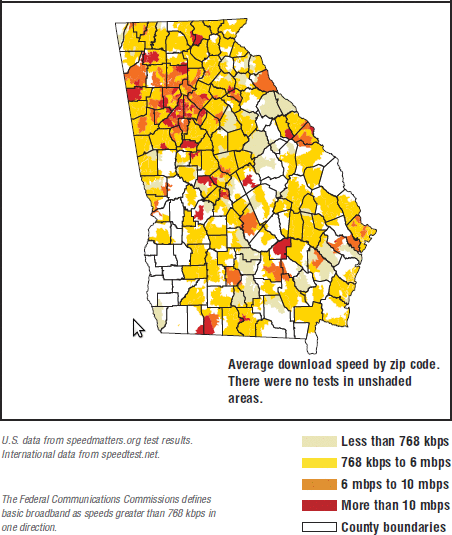 Then there are wireless possibilities, including EVDO, available from Verizon, with 750 kilobit per second (0.75 Mbps) wide area access from cell phone towers.
Verizon's towers could also be used for WIFI antennas, for up to 8 Mbps Internet access, over a wide scale.
Then there's metropolitan-area Internet. Chattanooga has the fastest such network, with 1 Gbps (1,000 Mbps). But hundreds of communities around the country have such networks, including (continued after the video)...
Internet speed and access —John S. Quarterman
Regular Session, Lowndes County Commission (LCC),
Valdosta, Lowndes County, Georgia, 8 May 2012.
Video by Gretchen Quarterman for Lowndes Area Knowledge Exchange (LAKE).
...Lafayette, Louisiana, Bowling Green, Kentucky, Lagrange, Georgia, and Thomasville, Georgia. They use it for public safety, education (Wiregrass Tech, VSU), and
It attracts new industry. If you want knowledge-based industry, they're going to be expecting Internet access not just at work, but at home, whereever they live.
Other uses include
hospitals and telemedicine, including in ambulances, for better survival rates.
My other neighbor Ashley Paulk told Timothy Nessmith Internet access is a PSC issue. Well, that's partly true, but the county talks to state and federal governments all the time, about issues such as:
roads and bridges, such as the LMIG funding from GDOT for a no-bid item for $60,354.32,
transportation, such as the state Section 5311 Rural Transportation Program, aka the county's on-call MIDS bus service, for a new total of $136,921,
public safety, for example FEMA and the National Weather Service about the EF2 tornado in April.,
and other issues.
Lowndes County could talk to the PSC and the legislature about Internet access.
In the community discussions are re-opening about Internet access including municipal or county-wide access. These involve some large players... What I would like to recommend is that the county be involved in that.
Chairman Paulk raised his finger after 4 minutes. As I told him later, I was almost done, anyway. I think the community should take time to come up with ways to provide community-wide access, ranging from getting the incumbent Internet providers to provide real competitive service, to installing county-wide municipal Internet service ourselves.
-jsq