Looks like the heat wave is going to continue for a while, according to NOAA's maximum heat index forecasts. Reuters wrote today,
A heat wave baking the eastern United States in record temperatures is set to continue on Sunday after deadly storms killed at least 12 people, downed power lines from Indiana to Maryland and left more than 3 million customers without power....

Utilities in Ohio, Virginia and Maryland described damage to their power grids as catastrophic.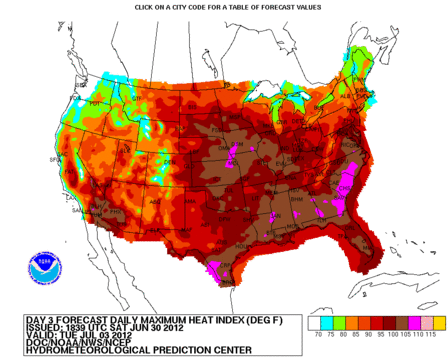 Laura J. Nelson wrote for the LA Times Friday, As a heat wave rolls across U.S., scientists predict more to come
The heat this week has baked an already-dry corn crop in the Midwest and South, and hampered firefighters' efforts to battle wildfires in Colorado and elsewhere. And, officially, the summer isn't even 2 weeks old.

One week of high temperatures is not a sign of massive global warming, said Paul Bunje, the director of UCLA's Center for Climate Change Solutions. Weather is random, influenced by factors including the temperature of major bodies of water and the flow of air currents in the atmosphere.

"But weather phenomena like heat waves, like this one, are more likely when you look at climate change models," Bunje said in an interview with The Times. "You see everywhere continuing to warm, and events like heat waves occurring with more frequency."
So, how about we deploy solar power, which produces more power when the air conditioners are running the most? Solar power that can be deployed on rooftops where it doesn't even need a grid. Solar power that can be sold through a smart grid to where it's needed most. Solar power that doesn't suck up or pollute water or air like coal or gas or nuclear, and doesn't suck up stealth taxes like nuclear does. Let's see Georgia Power and the Southern Company lead on deploying solar, wind, and a smart grid.
-jsq