Do big box stores count as development? Are they worth millions in tax incentives and bond investments? Maybe we can find something better for local industry and jobs.
Rumors have been flying for years about a Bass Pro store coming to Valdosta, like this one on a Georgia Outdoor News forum:
01-22-2008, 09:05 PM, bear-229
ive heard the land has been bought. very close to the new toyota lot but it has not made it to the "new locations" on the web site
That's on James Road, in that huge proposed development that Lowndes County approved around that time.
Scott Reeder wrote for The Atlantic 13 August 2012, Why Have So Many Cities and Towns Given Away So Much Money to Bass Pro Shops and Cabela's?,
Both Bass Pro Shops and its archrival, Cabela's, sell hunting and fishing gear in cathedral-like stores featuring taxidermied wildlife, gigantic fresh-water aquarium exhibits and elaborate outdoor reproductions within the stores. The stores are billed as job generators by both companies when they are fishing for development dollars. But the firms' economic benefits are minimal and costs to taxpayers are great.

An exhaustive investigation conducted by the Franklin Center for Government and Public Integrity found that the two competing firms together have received or are promised more than $2.2 billion from American taxpayers over the past 15 years.
Where does all that money come from? Bonds, usually. Which is yet another reason why last legislature's HB 475 to give unelected bodies bond issuing privatizing power would be a bad idea.
What does all that money go for?
For example, state and local taxpayers borrowed $60 million to build a Cabela's store and its supporting infrastructure in Buda, Texas. For that amount, every household in the 7,600-person community could have purchased a new 2012 Lexus CT Hybrid.

The Buda City Council even agreed to take the town's name off its water tower and replace it with the word "Cabela's." But government largess didn't end there. The Texas Parks and Wildlife Commission provided Guadalupe bass, the official state fish, for the store's massive aquarium at no charge to the retailer.

In one of the more bizarre aspects of its agreement an economic development corporation established by Buda owns about 20 percent of the 185,000-square-foot store and one-third of the land on which it stands. Which means that a 30-foot artificial mountain, with taxidermied mountain goats and other wildlife, a 60,000-gallon, fresh-water aquarium and an exhibit of life-size African game animals all fall under the public ownership umbrella.

Reportedly, Cabela's will save $4 million in property taxes over the next 20 years because those non-revenue generating areas of the Buda store are publicly owned. This, of course, deprives the city of potential revenue and gives the store an advantage over competitors.

This type of public ownership of store amenities is a standard part of many of the development agreements Cabela's enters into in communities ranging from Hamburg, Pennsylvania, to Mitchell, South Dakota. The retailer's stuffed animal displays and aquariums are labeled as "museums" and its showrooms for used firearms are now called "gun libraries" as a sort of legal fig leaf to justify public ownership of the retailer's amenities.

"It's almost like they are out to take advantage of the rubes," says Michael Hicks, an economist at Ball State University in Muncie, Indiana. "Often these small town city councils aren't the most sophisticated in analyzing an economic development proposal."
Or even larger towns, like Buffalo, which is still listed on Bass Pro's website, even though Bass Pro's CEO president announced in July 2010 that it wasn't going to happen.
Mark Sommer wrote for Buffalo News, 30 July 2010, Bass Pro drops out as waterfront anchor: Nine-year courtship ends; "unresolved" issues cited,
Critics denounced the use of tens of millions in public subsidies to reel it in; demanded a living wage and other agreements in exchange for a transfer of city land; released a report that cast doubt on Bass Pro's ability to generate economic development and boost tax rolls; and filed a lawsuit claiming the project violated the state constitution.
How much public money would have gone into that Buffalo Bass Pro?
Bass Pro was to be the centerpiece of the waterfront makeover, a magnet for new shops and hordes of visitors powered by $154 million in public funds, $105 million of it from a recently concluded agreement with the New York Power Authority.

Some $35 million was to go to build the Bass Pro store, with tens of millions more indirectly benefiting the project at Bass Pro's request.
That James Road development was proposed by a developer from Tampa. After former Valdosta Mayor Fretti spoke at the Lowndes County Commission, I asked him whether building a huge new shopping and residential complex west of the Mall would detract from the downtown Valdosta he'd helped revitalize. He said no, downtown was mostly boutique shops and restaurants and their customers wouldn't go to James Road.
Research reported in the Atlantic article disagrees:
"Retail is not economic development. People don't suddenly have more money to spend on hip waders because a new Bass Pro or Cabela's comes to town," says Greg Leroy, executive director of Good Jobs First, a non-partisan economic development watchdog group based in Washington, D.C. "All that happens is that money spent at local mom and pop retailers shifts to these big box retailers. When government gives these big box stores tax dollars, they are effectively picking who the winners and losers are going to be."
I've watched that happen to Downtown Valdosta before when Five Points and then the Mall opened. Why would we want it to happen again?
Sure, we can claim Valdosta and Lowndes County are unusual in that people already do travel 100 miles to shop here, which is why LOST and SPLOST are so popular with local governments, which brag about half of all sales tax dollars spent here come from somewhere else. And increasing that sort of incoming buying traffic is what the big box stores play up.
Convincing politicians that the store will be a tourist mecca is a critical part of Cabela's' and Bass Pro's spiel, says Stacy Mitchell, author of Big Box Swindle.
But that wouldn't stop those shoppers moving from local shops to the big box.
Instead of Bass Pro in Buffalo, they're reopening the Erie Canal at the waterfront and making it a real public access area.
Donn Esmonde wrote for Buffalo News 27 July 2012, Still waiting for history at canal site,
The Canalside site was supposed to be centered on Buffalo's page in America's story. The Commercial Slip was the canal's original western terminus—not just a roadside attraction, but a site historians say is nationally significant. It was here in 1825 that DeWitt Clinton officially opened the canal that transformed America.
Transformed America as in connected the Great Lakes to the Atlantic and greatly boosted economic development. That's what the Erie Canal was. What would the local equivalent here be?
Historically, everybody knows the answer to that question: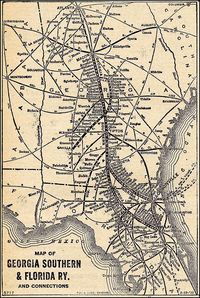 the railroad. Also Strickland Mill in Remerton. That downtown property in Hahira. The lakes in Twin Lakes. Maybe something in Dasher. Baseball leagues in Naylor. Maybe there's something we could do with those things. Something other than falling for the latest outside developer scam.
And maybe there are modern equivalents. TitleTown, anyone? George Page and Parks and Rec have attracted baseball tournaments. Maybe there's even more we can do with sports. Solar Lowndes High? High speed Internet Valdosta Metro Area? What other strategies can you think of?
-jsq